Roof Leak Repair Services for Tampa Homeowners
If your roof is leaking, time is of the essence. Affordable Roofing Systems can be there as fast as possible, with competitive pricing and convenient scheduling so you can get the roof leak repair services you need right away. We offer:
Roof Leak Repairs
Thorough Roof Assessment
Permanent Roof Leak Repairs
Storm and Hail Damage Restoration
Highly experienced, licensed roofing professionals
A properly functioning roof is essential in Florida's heat and weather. Don't spend another minute with a leaky roof. Call (813) 542-8462 for immediate roof leak repair services in the greater Tampa Bay area.
Possible Causes of Roof Leaks
A leaky roof can lead to significant problems if not addressed right away. But a roof leak does not necessarily mean that your entire roof needs to be replaced. Timely and effective roof leak repair services can keep your roof in good shape for years to come. Have regular roof inspections to avoid further damage to your property and pay attention to these common causes of leaky roofs:
Broken or Missing Roof Tiles or Shingles
Missing tiles or shingles easily turn into roof leaks. Look for missing or damaged tiles or shingles that could be allowing water to penetrate your home.
Buckling or Curling Shingles
Shingles that are not laying flat on the roof deck may not perform as intended and could allow water to enter your home. Have buckling or curling shingles repaired as soon as possible.
Granule Loss in Shingle Roofs
Granule loss in shingle roofs is usually due to normal wear and tear. Nevertheless, this wear means your roof will not function at its best and could spring leaks. A roof leak repair can address granule loss in a specific area, but if this problem is evident in the entire roof, it may be time for a roof replacement.
Damaged Flashing
Another common cause of leaks is damaged flashing. Keep in mind that the function of the flashing is to protect some of the most vulnerable parts of the roof. If you see any signs of damage to your flashing, have it addressed right away.
Most Leak-Prone Areas of Your Roof
Inspecting and properly maintaining the following areas can help you avoid problems down the road. If you notice damage in these areas, call for repairs as soon as possible.
Roof Field
This is one of the most common areas for roof leak repairs. If your roof is old, be sure to inspect the roof field, especially before the rainy season. This includes the expanse of shingles, tiles, or slate. For asphalt shingles, watch out for missing granules and cracks. You should also pay attention to loose nails.
Roof Valleys
Roof valleys are also one of the most leak-prone areas of your roof, especially during the rainy season. Improperly installed roof valleys, or those damaged due to bad weather conditions, can leak. Repairs to leaking roof valleys should be handled by an experienced roofer to avoid a repeat of the leak.
Chimneys
Leaks around chimneys usually happen due to damaged flashings or porous masonry from spalling bricks. Pay attention to stained ceilings and rotten roof sheathing around the chimney area. If you see these signs, be sure to call a contractor with experience repairing chimney leaks. Not all roofers know how to correctly install flashing for a chimney, so some will just leave the existing flashing in place. Be sure your contractor has the experience to handle the job properly.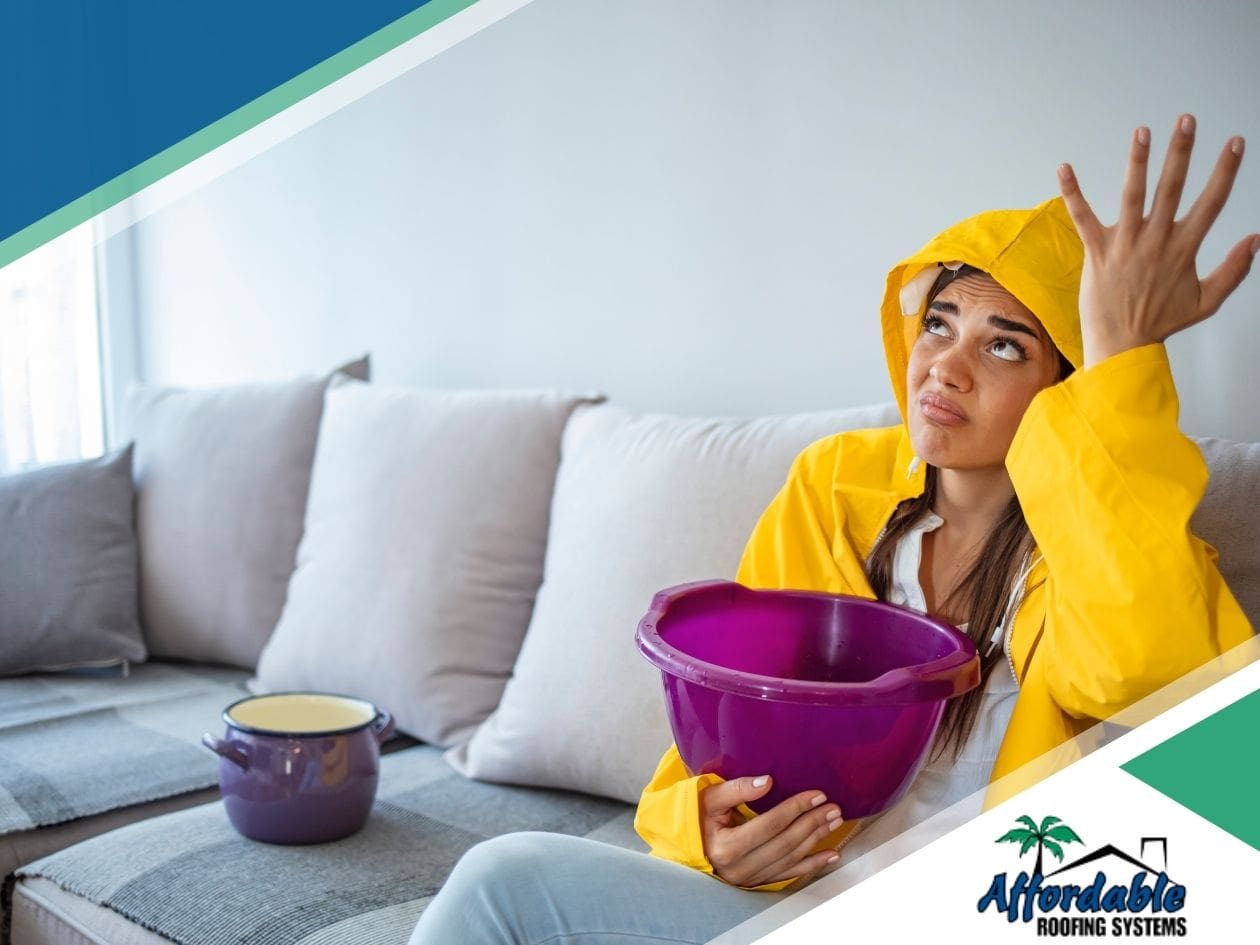 Dangers of a Leaky Roof
Structural Damage
Roof leaks often lead to structural damages if not immediately addressed. When this happens, you can face much bigger problems. Don't ignore that small leak you see in the attic or ceiling. This can eventually lead to damaged rafters, wall framing, exterior trim, and fascia boards.
Save yourself the expense and hassle of structural roof damages by calling Affordable Roofing Systems at the first sign of any roof leak.
Damage to the Attic Insulation
This is another scenario you don't want to encounter. Damaged attic insulation can ruin the entire roofing system, requiring replacement of the insulation as well as structures damaged by prolonged contact with wet insulation.
Mold and Mildew Growth
Mold or mildew growth can affect your roof's lifespan; more importantly, it can also cause health problems for you and your family. To prevent the growth of harmful organisms that thrive on moisture, be sure to repair even minor roof leaks immediately.
Slip and Fall Risks
Unexpectedly wet floors are a major hazard and one of the leading causes of slip and fall accidents. Aside from the risk of injury, a property owner may face legal liability if guests slip and fall on their property, especially if the leak was known to exist and was not repaired in a timely manner.
Fire Hazard
Roof leak problems can be hazardous, especially for older residential properties with old wiring. Water leaks and exposed wires are extremely dangerous and require immediate action. A simple fix today can prevent a costly tragedy in the future.
Best Practices to Prevent Roof Leaks
Get your roof regularly inspected by a local roofing contractor
Always check the attic
Check the roof flashings
Clean the roof gutters
What to Do if Your Roof is Leaking
Minimize the water damage
Repair minor damage
Cover your roof leak
Call for a professional repair
Call Affordable Roofing Systems!
Is your roof leaking? Call the time-tested roofing repair professionals now at (813) 542-8462! We provide complete roofing solutions for both residential and commercial roofing properties. At Affordable Roofing Systems, experience and quality matter. We know how important your roof is and we will solve your problem quickly, effectively, and at a reasonable price.