Scent and Sensibility: Safety in Your Home During Tampa Roofing Work

By Stacy Mellete
In a humid subtropical climate zone, tar odors while doing roofing in Tampa is a concern among homeowners or building occupants who have had to endure them, especially during the hot summer days. When roof replacement work is ongoing in your building or your house, it is important to know how it may affect you or the health of your family.
Roof tar, an essential roofing supply used in fixing leaks on the roofs can cause some harm to the people using it, but the effects on those exposed to it are, reportedly, short term. These findings, however, seems inconclusive. Consider the following: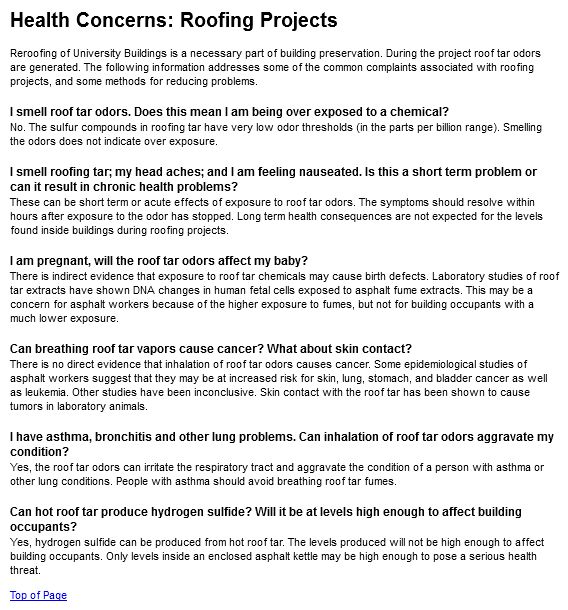 Short Term Effects
Roof tar odors do not necessarily expose you to the harmful chemicals. Though the smell is inescapable, the sulfur compounds that you inhale might be too minimal so far as odor thresholds go. According to a University of Minnesota article on roofing projects, most reactions to tar odor should be able to resolve itself once you take yourself out of the area:
These can be short term or acute effects of exposure to roof tar odors. The symptoms should resolve within hours after exposure to the odor has stopped. Long term health consequences are not expected for the levels found inside buildings during roofing projects.
Respiratory Concerns.
Indirectly, some studies show that chemicals in roof tar may cause some birth defects to babies as roof tar extracts contain asphalt fumes that affect some DNA of fetal cells. However, we have to note that this concerns highly exposed asphalt workers and not building occupants.
If you and your kids have respiratory concerns like asthma and lung problems, inhalation of these roof tar odors will affect you. Either you wait for another time to fix the roof, or move temporarily to another house.
Cancer Trigger.
While there is no evidence that directly says that roof tar odors can cause cancer, there are epidemiological studies that show that asphalt workers may be susceptible to skin and lung cancer risks.
We want to improve our homes, but we want to do in a way where we do not expose ourselves or our loved ones to harmful fumes or dust.
Make sure that you consult with reputable roofers in Tampa, such as Affordable Roofing Systems, who have the expertise and resources to keep the pollution down to a minimum, without endangering the health of the building's occupants.
(Article Excerpt from Health Concerns: Roofing project OK.com, University of Minnesota, Department of Environment Health and Safety N.D.)