Can I Replace My Own Roof In Tampa Florida?
Many residents in Tampa, Florida today are getting busy with different home repairs and DIY home improvement projects. In today's blog post, we will discuss one of the most complex tasks for property owners: roof replacement.
We have received a lot of questions about roof replacement projects. Can I do it myself? Should I hire a licensed roofing contractor? What are the advantages of hiring a roofing contractor? Read on to help you make a more informed roofing decision.
So, can I really replace my own roof?
Going back to the question, the most straightforward answer is yes. You can replace your own roof, but you should know the risks of replacing your old roof with a new roof. You should have enough roofing knowledge to ensure you have a durable roofing system.
You should familiarize yourself with different roofing materials to determine the right one for your new roof. Keep in mind that your roof is a big investment. Be sure to choose the best roofing materials for your home or property.
Timing is also critical. Replacing your roof is very time consuming. If you were to tear off your old roof and inclement weather approached, would you be able to react quick enough to avoid water getting in your home. You can round up friends, but they will disappear as the day goes on, leaving you vulnerable.
Making critical mistakes can end up costing you much more than you thought you would save by doing it yourself.
In addition to choosing the right material or having enough roofing knowledge, here are other important things you should know about replacing your old roof with a new roof:
Must Obtain Required Permits, Approvals, and Inspections
Before you proceed with any roofing project, be sure you meet all the requirements, including permits, approvals, and roof inspection. Florida State Law requires homeowners or property owners to apply for a building permit for all installations or when replacing their roof. If you do not pull a permit, it is likely that your insurance company will not see when your last re-roof was done and make you replace your roof prematurely.
Be sure to complete all the requirements before proceeding to your full roof replacement project. Check out this site to learn more about residential roofing permits in Tampa, Florida.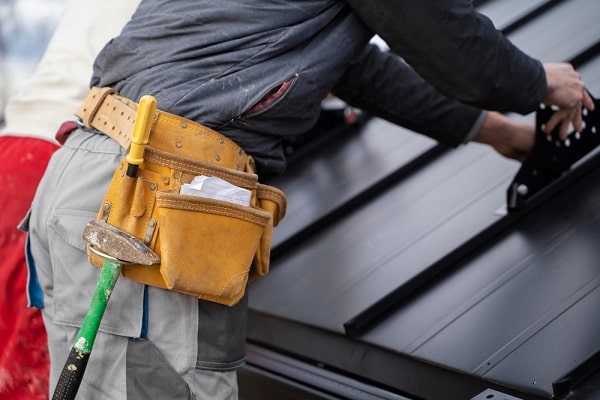 The homeowner must personally appear and sign for building permit
The homeowner applying for the permit must be physically present to sign the documents. If the homeowner or applicant cannot sign the documents personally, the application can be forfeited.
The homeowner must receive approval from the permitting agency
You are not allowed to start a roofing project without approval from the permitting agency. Be sure your permit has been validated by the agency to avoid getting penalized.
The homeowner must arrange an inspection and roofing work must pass the final inspection
If you are planning to replace your roof by yourself, you should also arrange a professional roofing inspection and comply with all building code standards. You can coordinate with a professional contractor to inspect the construction site.
A home inspection for any roofing project usually includes site, general conditions, roof dry-in roof, sheathing, nailing, blocking, and ply chips. The inspector also needs to check the roof mitigation. Click here to learn more about residential roofing inspections.
Benefits of Hiring an Experienced, Licensed Contractor Instead
As discussed above, replacing your own roof can be really exhausting. It requires comprehensive knowledge and the right set of tools to ensure a safe and successful roofing project.
Keep in mind that DIY projects-- whether roof repairs or replacement-- also have potential risks. Even the most avid handyman can make costly mistakes. That's why it's advisable to leave it to the experts.
Here are the benefits of getting your roof replaced by a professional roofer:
Financial Considerations
Most people think that DIY roof installation and repairs can save them more money. But come to think of it, you can lose more money from costly repairs and setbacks should something bad happens. And not to mention, the required tools and materials for these tasks are also expensive even if you're just planning to rent them.
Do you Really Save on Labor and Materials?
More often than not, there will be unexpected costs with DIY roof installation and repairs. Keep in mind that it can also be time-consuming. Working with licensed roofing contractors can simplify everything for you.
These roofers have undergone special training and have full access to leading roofing manufacturers of your preferred roofing material (metal roof, asphalt shingles, tiles, or concrete). That means you can only expect superior workmanship.
In addition, roofing companies provide comprehensive product and installation warranties. Professional roofers can also give you tips on how to save on energy bills by installing an energy-efficient roofing system.
Homeowners Choosing to DIY Must Not Sell or Lease the Property Within One Year
Another hassle when you choose to DIY is you cannot sell or have your property leased for one year. So, if you are planning to sell or lease your property in the future, it is best to leave these home improvement projects to the experts.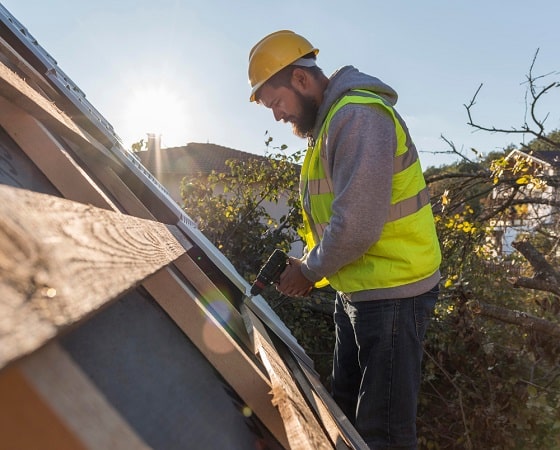 Must Provide Direct Onsite Supervision of All Work Not Done By a Licensed Contractor
DIY projects require you to supervise or monitor all the work done on your property, meaning you must take time off work.
Must Deduct FICA, Withholding Tax, and Provide Worker's Compensation Insurance for Anyone you Employ, as Required by Law.
If you hire any laborers to help you when you install your new roof, you need to take care of all applicable taxes. You should deduct the Federal Insurance Contributors Act (FICA) and withholding tax. In addition, the law also requires homeowners to provide worker's compensation insurance for anyone they hire or employ.
Benefits of Hiring an experienced, licensed, and insured Contractor instead
Hiring an experienced and a fully-licensed roofing company can give you several advantages. There's no need to wait for a year to move, sell or lease your property. The roofing company you hired will also take care of all the taxes, including FICA, worker's compensation, and other legal issues.
The homeowner cannot hire an unlicensed person to act as a contractor
Owners who aid and abet the unlicensed practice of a  profession by employing an unlicensed person may be subject to a  penalty under Florida  Statute  455.228.
Safety hazards due to inexperience in roofing labor
As a homeowner, you should be aware of the safety hazards of roofing. Keep in mind that roofing is one of the most dangerous jobs in the world. Some of the leading causes of roofing injuries include slips and falls, malfunctioning tools, electrocutions and in some cases death.
Accidents or work claims
You can be held liable when someone gets hurt on your property. This can be a huge problem, especially if you do not have worker's compensation and general liability insurance.
Benefits of Hiring an experienced, licensed, and insured Contractor instead
When you work with a reputable roofing company, you can have peace of mind. These professionals are well-equipped with the right set of tools and safety gear to help them successfully complete the job. And more importantly, you will have protection from liability.
Roof Warranty Issues
A reputable roofing company can help you address any roof warranty issues. They can process your product and installation warranties.
Insurance company Issues
You can also avoid insurance company issues when you hire an experienced and certified roofer.
Affordable Roofing Systems
Are you still in search of a roofing company you can trust? Affordable Roofing Systems is your best option! We provide complete roofing services, including roof evaluations, roof repairs, and replacement. Call us now to get a free estimate!