What is Metal Roofing? The Cost of a Metal Roof, Different Types, Pros and Cons

Metal roof remains one of the most popular materials for roofing in Tampa, Florida. This material is known for its durability, longevity and versatility. In the past, metal roof colors and designs were very limited. Fortunately today, there are now more design options available from reputable manufacturers like Drexel Metals, CertainTeed and Metal Sales Manufacturing.
In today's blog post, we are going to discuss everything you need to know about metal roofing systems. What are the different types of metal roofs? What are the pros and cons? How much does it cost? Is it the right material for your home or property? Read on, so you can make more informed decisions!
What is a Metal Roofing System?
This roofing system is usually made of metal sheets, pieces, tiles or panels. Known for its high resistance and durability, metal is highly recommended by Tampa metal roofing experts for both commercial and residential roofing. Over the years, roofing experts and manufacturers have innovated their methods to improve the quality of metal roofs.
There are different ways to install a metal roofing system for your home or business property. In addition to metal roof sheets and tiles, prefabricated metal roofs are also growing in popularity these days. Many roofers also use metal to create shingles.
[Check out some of the available metal roof colors in Drexel Metals.]
Why Choose Metal Roof over Other Materials for Roofing?
Like other roofing materials, metal roofs have pros and cons. At Affordable Roofing Systems, one of our goals is to help our customers make more informed decisions. So, let's take a look at some of the pros and cons of metal roofs.
Advantages of Metal Roofs:
Durability and longevity are the top reasons why many residents and business owners in the Tampa Bay area prefer installing metal roofs. A properly installed and well-maintained metal roof can last up to 70 years or even more! It can withstand hailstorms, high winds and heavy rainfalls.
Additionally, some types of metal roofs today use corrosion and rust-proof coatings, making them even more durable and longer-lasting!
According to roof experts, quality metal roofs can withstand sustained winds up to 140 miles per hour! You can also expect a comprehensive manufacturer's warranty of up to 50 years. Just be sure to hire a reputable metal roofer in Tampa. A trusted roofing contractor should discuss with you their product and installation warranties in detail.
This is a standing seam metal roof, one of Drexel Metal's best picks for both residential and commercial roofing.
Contrary to popular beliefs, metal roofs do not really absorb heat. Instead, they actually deflect solar radiant heat and even regulate airflow, making it one of the most energy-efficient roofing options. According to experts, you can reduce up to 25 percent of your energy bills when switching to metal roofs.
To further evaluate a metal roof's energy efficiency, you should consider these key elements:
Emissivity and granular coatings
Solar reflectivity
Thermal resistance
Gone are the days when you had to compromise visual appeal in exchange for durability. Metal roofs have come a long way from corrugated tin barns. Truly, metal roof manufacturers have made huge improvements to offer customers more design options. In addition to aluminum, you can also choose from zinc, copper, tin or galvanized steel. They also come in a wide range of colors, finishes, and shapes.
With a stylish metal roofing system, you can boost your property's curb appeal and resale value!
Unlike other roofing materials, a metal roofing installations are easier to maintain. In fact, quality metal roofs do not require periodic costly maintenance. They don't chip, fade, crack or curl. However, metals are susceptible to scratches and dents, which usually happen due to improper installation or severe weather conditions.
Here's how to maintain a metal roofing system:
Clean off debris from the roof gutters at least thrice a year. Pay attention to leaks in the downspouts, as well. Be sure to seal them to prevent further damage.
Inspect your roof for scratches. Be sure to fix them using touch-up paint, Take note that scratches can spread and cause corrosion over time. That's why it's best to address them immediately.
If you notice any signs of damage, it's best to contact a local metal roofer in Tampa for a thorough inspection.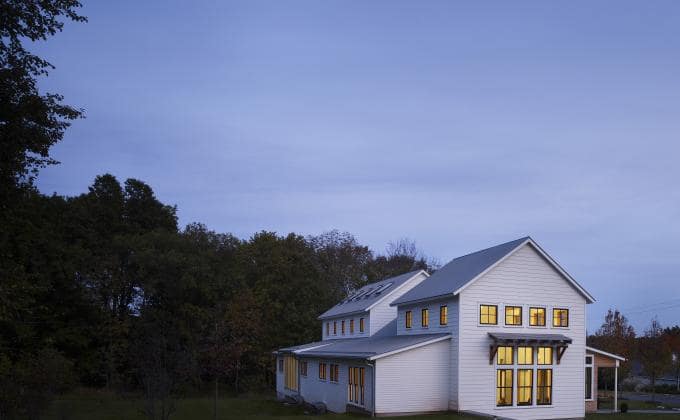 Disadvantages of Metal Roofs
Safety risks and affordability are just some of the concerns with metal roofs. The major disadvantage of a metal roof is it can be slippery when wet. That's why it's never a good idea to climb on a metal roof when it's wet or moist. Another concern is affordability. Metal roofs are usually more expensive compared to asphalt shingles and other materials for roofing.
Metal Roof Cost: How Much is It?
Take note that the cost of metal roof may vary depending on several factors, including size, slope type, structural design and type of metal. Location and the roofing contractor's reputation can also be factors. More often than not, you can expect higher rates from reputable Tampa roofing companies, but as the saying goes, you get what you pay for.
As mentioned, location can also be a factor. In Tampa Bay, the average metal roof cost can range from $5,500 to $35,000-- that's about $5 to $20 per square foot. For a regular 1,500 square-foot standing seam metal roof, it can cost around $12,000. Click here to get an accurate estimate.
Other Factors That Affect the Cost of a Metal Roof in Tampa, Florida
The cost of a roofing project can be more expensive when/for:
Properties have multiple stories
High pitch roofs
Higher quality metals like zinc or copper
Complex roofs
Damaged roof underlayment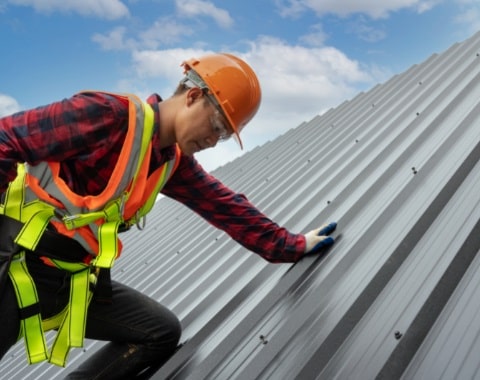 Types of Metal Roofing
1. Aluminum Roofing
Aluminum is one of the most popular metal roofing systems. It is known for its durability and versatility. The best thing about aluminum roofing is that it's lightweight but still as durable as other metal roofing materials, which also makes it easier to install.
Pros:
Corrosion-resistant
Lightweight
Malleable
Cons:
Prone to dents (compared to steel metal roofs)
Limited color or design options
Usually more expensive
2. Copper Roofing
Known for its unique appearance, this type of metal roofing has been around for decades. In fact, some of the most famous infrastructures in the world have copper roofs. The main forms of copper roofing are continuous copper, copper panels, copper sheets, and copper shingles.
Pros:
Stylish and unique appearance
Longer-lasting
Corrosion-resistant
Easy to install
Lightweight (lighter than clay tiles)
Cons:
Expensive
Prone to dents
Limited suppliers
3. Tin Roofing
Before aluminum was introduced in the US roofing market, tin was the most popular roofing option. Like aluminum, it is also known for its lightweight properties and durability. It's quite rare to see tin metal roofs these days.
Pros:
Lightweight
Easy to install
Durability
Cons:
4. Zinc
Zinc roofing panels are getting more and more popular these days because of their striking appearance. This material can be used for both commercial and residential metal roofing. According to reports, zinc metal roofs can last up to 80 to 100 years. That's one of the reasons experts also named it "the lifetime roof".
Pros:
Curb appeal
Durability
Longevity
Versatility
Corrosion-resistant
Cons:
Quite expensive
Prone to chalking
Limited suppliers
The Bottom Line
So, is metal roofing the best option for your property? Is it cost-effective? Is it really worth it? Well, there are actually no straightforward answers for this one. Everything depends on your situation or goals. You have seen the pros and cons of metal roofing. So review it one more time and evaluate your goals and present situation.
Yes, a metal roofing system can be more expensive or require more money upfront than any other roofing material. And if budget is a big concern for you, then metal might not be the best option for you.
However, if you are really aiming for top-quality roofing materials and you are willing to invest in your home or property and money is not an issue, then you should definitely go for metal roofs. Additionally, a metal roof is also an ideal option for Tampa's humid and subtropical climate. Just remember, quality can also come with a price.
[Watch 5 Reasons To Choose Metal Roofing]
How Affordable Roofing Systems can Help
Affordable Roofing Systems is an award-winning roofer in Tampa. We have been in the roofing industry for more than 20 years! And over the years, we have been helping all our customers by providing them with quality workmanship and excellent services. Here, we want to help you to make more informed roofing decisions. We take pride in what we do and that is to provide you with the results you are looking for!
Affordable Roofing specializes in residential and commercial metal roofing. We offer a full range of roofing solutions, including roof evaluation or inspection, roof repairs, new roof installation or roof replacement and so much more! Our team of professional roofers is fully licensed and always ready to serve! We will ensure that our team gives you an honest assessment!
If you are still looking for a roofer in Tampa you can trust, Affordable roofing is your best bet! Call us now at (813) 542-8562 and we're happy to give you a free estimate!