What is Standing Seam Metal Roofing?
Standing seam metal roofs are getting more and more popular these days. This type of metal roof is known for its unique design, durability, and performance.
The standing seam metal roof is also referred to as concealed fasteners roofing system. This means there are no exposed fasteners flying around like you usually see in traditional or ordinary metal roofs. Today, standing seam metal can be installed as roofing panels or metal walls.
Standing Seam Panel Profile Types
Versatility is one of the key selling points of standing seam metal roofing. They offer a wide variety of options that can easily match customers' requirements and preferences. In addition to colors, standing seam metal roofs are also available in different lengths, widths, shapes, profiles, thicknesses, and other attributes.
Another way to classify standing seam metal roofs is via panel profile types. This classification of standing metal roofs refers to the shape and how panels are seamed together.
Standing seam systems can be installed in two methods. The most basic way is to attach the panel to the roof deck using a clip. However, some seam metal panels can also be fastened directly to the decking material under vertical legs.
Here are the common types of standing seam profiles:
Snap-Lock Profile
As the name implies, this profile type utilizes snap lock panels that have been carefully designed with specifically shaped edges. The snap-lock profile standing seam systems also feature a male and female leg that snap together even without manual or mechanical seaming during installation.
Snap-lock profiles can be installed on the roof deck using heavy-duty clips. These clips can be attached to the seam and fastened underneath the panel.
Mechanical Lock Profiles
Mechanically seamed panels are also one of the most popular standing seam systems. These are also roll-formed with specific edges that line up with each other. When two panels are engaged, a mechanical seamer adjusts the edges and locks the panels together.
There are two types of mechanically seamed systems- the single lock and double lock. Your local metal roofing contractor should determine the best mechanical lock profile for your standing seam roof.
Batten Panel Profiles
In this standing seam metal profile, you will notice that there are two-panel legs roll-formed and attached to one another. These panel systems are secured by a metal cap that goes over the legs to create a seam. Depending on the requirement, the metal cap can be used as snap lock panels or it can be mechanically seamed into place.
Nail Flange or Fastener Flange Profiles
Like the snap-lock profile, the nail flange or fastener flange profile also utilizes snap-lock panels. But instead of using clips, it is directly fastened down to the deck material through the male leg of the metal panel.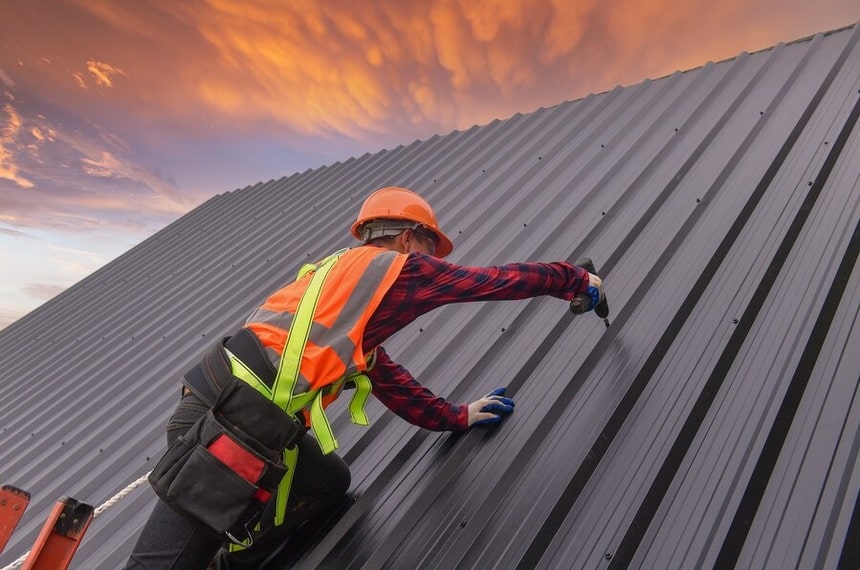 Advantages of Standing Seam Metal Roofing
Here are the reasons why business owners and residents in Tampa, Florida are now leaning toward standing seam metal roofs:
No Exposed Fasteners
One of the key benefits of standing seam metal roofs is that no exposed fasteners are visible on the surface. This means the fasteners of a standing metal roof are not exposed to harsh elements that can significantly cause wear and tear over time. Additionally, standing seam metal roofs do not require putting holes in the panel systems, which prevents damage to the structure.
And if you're one of those people who see fastener heads as unsightly, a standing seam metal roof is your best option.
Engineered Systems Tested to Perform to High Standards
Industry leaders like Drexel Metals always test and calibrate their standing seam metal roofing systems. Rest assured, you can expect a durable and quality performance against extreme weather conditions.
Allows for Thermal Movement
Oil canning, fastener withdrawal, and increased noise are some of the most common issues you may encounter with a regular metal roof. A standing seam metal roof utilizes a specialized panel system that allows for thermal movement. Through this, you can avoid such problems for a more seamless experience.
Longevity & Lifecycle
The standing seam metal roof is known for its durability and longevity. It is also relatively easier to maintain as compared to other roofing materials, including asphalt shingles or concrete tiles.
Sleek, Consistent, & Modern Look
The standing seam metal roof is growing in popularity in architectural applications these days because of its overall look and design. It offers customers a wide range of design and color options, making it a lot easier to mix and match the overall style of your property.
Energy-Efficient
The standing seam metal roof is also energy-efficient. It is specially designed with a cool metal roofing coil and highly reflective materials. It does an amazing job of reflecting harsh UV rays and radiant heat.
Disadvantages of Standing Seam Metal Roofing
While a standing metal roof can provide you with numerous benefits, there are also some disadvantages you may encounter. Here are some of them:
Higher Cost
Well, quality usually comes with a price. And this is one of the most significant drawbacks of installing a standing seam metal roof. Standing seam panels are usually more expensive compared to metal roofing with exposed fastener panels.
The average price of the metal roof with exposed fastener systems can range from $7 to $12 per square foot. On the other hand, standing seam panels can cost around $10 to $20 per square foot.
Fewer Qualified Contractors Have Experience Installing Standing Seam Roofing
It can be challenging to find a qualified contractor that is well-versed with standing seam panels. If you are considering installing a standing seam metal roof, be sure to check the credentials of your roofer. As much as possible, choose a roofing company that is recognized by well-known metal roofing manufacturers like Drexel Metals.
It's a Labor-Intensive Installation Process
Compared to metal roofing panels with exposed screws or fasteners, the standing seam metal roofing system requires a more complex installation process. That's why you need to hire the best roofers who have vast experience in standing seam systems.
Not to Be Used on Flat Roof Structures
Keep in mind that standing seam panels are not recommended for structures with a pitch below 0.5/12
Can Be Harder to Repair or Replace
This is another factor to consider with standing seam metal roofs. Repairs and replacements can be quite tedious compared to other roofing options.
Benefits of Working With Affordable Roofing Systems, your Certified Metal Roofer in Tampa
Are you looking for a certified metal roofer in Tampa? Affordable Roofing Systems is here for you! We are a certified metal roofing company in Tampa with over 25 years of industry experience. We are a proud partner of some of the global leaders in the metal roofing industry! With this experience combined with our passion for innovation, we can ensure superior workmanship for our customers.
Affordable Roofing Systems is a fully licensed, insured, and bonded roofing contractor in Tampa, Florida. We provide comprehensive installation and product warranties that should give you peace of mind! Our services include roof evaluations, roof repairs, replacement, and new roof installation. Need help with your roof? Call us now at (813) 542-8462 to get a free estimate!