Stone Coated Metal Roofing vs Asphalt Shingles Comparison
You will have many options available when selecting the roofing material for your new roof. Nevertheless, many homeowners choose between two prevalent materials: asphalt shingles and stone-coated steel roofing.
Affordable Roofing Systems is your certified asphalt shingle and stone-coated steel roofing contractor in Tampa, FL. In this blog, we will compare those roofing materials to help you make your decision; keep reading to learn more about these two excellent roofing materials.
Longevity
Asphalt shingles may be durable, but manufacturers make them from materials that eventually break down; they are not metal!
The average shingle roof lifespan is about 10-15 years if installed correctly and under good weather conditions. On the other hand, stone-coated steel roofs are stronger and can last up to 50 years or even longer.
In a study by NAHB, the lifespan of stone-coated roofs far exceeds asphalt shingle, meaning stone-coated metal roofs can last 3-4 times as long as asphalt shingle roofs.
Cost
There are fundamental differences when weighing stone-coated steel roofing against asphalt shingles. First, stone-coated steel roofing is more expensive, sometimes costing nearly double what you would pay for a standard asphalt shingle roof.
However, while installing asphalt shingles is significantly cheaper as an initial investment, you have to consider that you will be replacing them at least three times during a metal roof's lifespan.
Therefore, installing a stone-coated metal roof can save money and many headaches in the long run.
Weight
Depending on the type of material, the roof on a 2,500-square-foot home may be as little as 1750 pounds of roofing materials or as much as 50,000 pounds.
Stone-coated roofing weighs less than 2 pounds per square foot, and asphalt shingles typically weigh between 2.3 and 4.5 pounds per square foot. It seems hard to believe, but it's true!
Taking some of the weight off the home can help preserve its structural integrity in case of a catastrophic wind storm, extreme weather, heavy rain, earthquake, or fire.
Fire resistance
If you've seen footage of a house on fire on the evening news, you know that asphalt shingles are not the most fire-resistant material.
A stone-coated metal roofing system will resist flames. So if you ever experience such a problem, rest assured that your roofing system won't worsen a bad situation.
Hail resistance
Hail can damage any roof. If you've lived in Florida, you may have experienced it firsthand. If there is a fierce hail event, it may cause dents and bumps. If you have shingles, you may find some missing, bent, scattered across the lawn, or damaged.
However, stone-coated metal roofing systems are much more durable than asphalt shingles, giving your roof a warranty that offers relevant protection.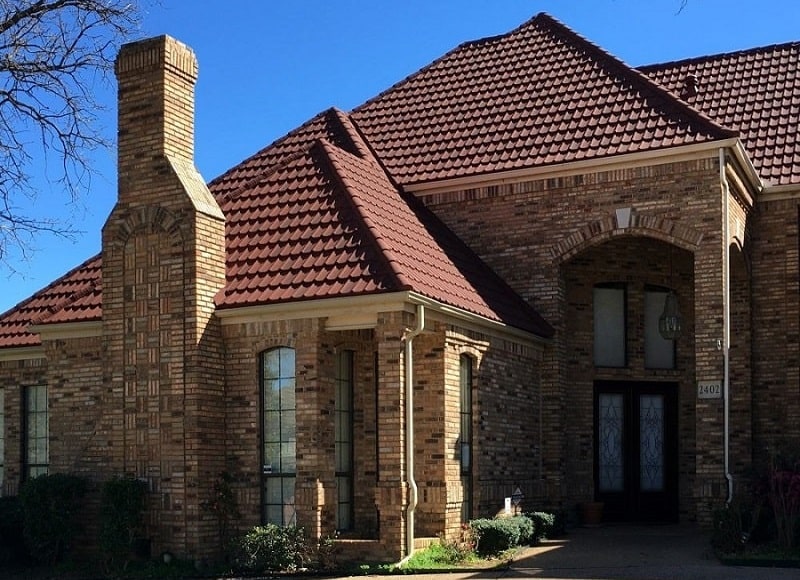 Wind resistance
After a storm with high winds, your asphalt shingle roof might suffer damage. Shingles can end up on your lawn or driveway, and some might even curl.
A stone-coated metal roofing system will be able to withstand the wind and remain in place (due to its extraordinary durability), offering your home the protection it needs.
Eco-Friendliness
If you are an environmentally conscious homeowner, you'll love stone-coated steel roofing because metal roofs can be recycled countless times without degradation, and your old roof won't end up in a landfill like many other building materials.
Even though some asphalt shingle manufacturers might be more environmentally friendly than others, it's important to remember that asphalt shingle comes from materials like petroleum and fiberglass. This fact means that they're not exactly the most environmentally-friendly option. For example, petroleum is a fossil fuel that releases gasses into the environment when it's burned, and fiberglass production also produces toxic air pollutants like styrene.
Energy Efficiency
Asphalt shingle roofs trap heat from the sun, absorbing it into the home and increasing indoor temperatures by up to 25 degrees.
On the other hand, stone-coated metal roofs are the most energy-efficient option available. As a result, many homeowners can experience greater energy efficiency and a lower cost of living by replacing their shingle roofs with new stone-coated metal roofs.
Stone-coated metal roofing provides excellent insulation during the cold year because metal materials reflect sunlight, helping keep home energy costs down 40-50 percent during sun exposure and warmer months.
Warranty
The roof warranty is essential for any installation process because it is one way to determine the quality of the roofing product, the roof value, and the average lifespan.
For example, if Company A offers a 25-year warranty on an asphalt shingle roof and Company B offers a 50-year warranty on a stone-coated metal roof, the stone-coated metal roof is probably a better product. The extended warranty proves that the roofing manufacturer has more faith in the product.
Warranties can also prompt many homeowners to do more research on a product before making a purchasing decision.
Roofing is a Long Term Decision. Consider Value Over Cost
Let the experts at Affordable Roofing Systems help you find the right solution for your new roof. Contact our headquarter at (813) 542 8462 for more information about our wide range of roofing services and roofing material options, or schedule an appointment for your roof project.